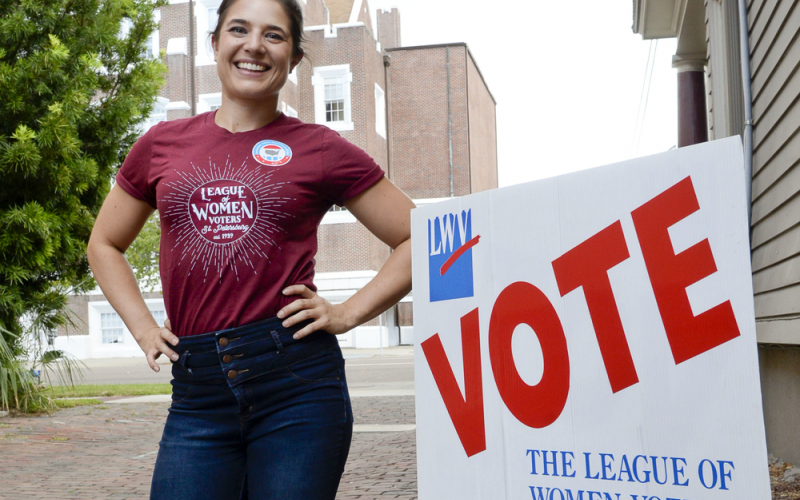 November approaches, and it's time for one of my periodic screeds about voting. Few things perturb me more than Americans who don't vote.
Well, President Twitterman gets top rank among bugbears, of course. And there's the Saudi autocrat who's finally being bashed in the press for murdering one journalist while his mass slaughter of Yemeni civilians continues to be ignored. Yet I don't know that princely thug called MBS, he's never bought me a beer, and my outrage at him merges with my general disgust for the fat-cat gangsters swarming the White House and other seats of government.
In comparison, my displeasure with nonvoters is much more personal. You know the truism that sibling feuds are the worst of all? Americans who don't bother to vote—especially college-educated, middle-class types like myself—those people are family, and so I get really mad at them. There's no excuse for their behavior. Voting is so simple—how can they not do it?
Do I sound like somebody's grumpy old uncle?
I am.
Let's survey some apparent reasons people don't vote. I'm excusing, of course, those who are blocked from voting by electoral machinations ("you put a period after your middle initial on one form but not on another; therefore we can't verify your identity"), and those who juggle three jobs and three children and have no time in between, and those whose polling place is conveniently located 153 miles away. Etc. (Although in the latter cases people might use absentee ballots.) I'm aiming this diatribe at people who could vote easily but somehow don't. The people who elected Twitterman by abstaining. The people who make the United States notorious as a nonparticipative so-called democracy.
Reason for Not Voting #1: "I don't like any of the candidates. They're all flawed."
My response: I hope you believe in a Messiah. Because your perfect political candidate will come along sometime after the Messiah.
Reason for Not Voting #2: "I'm sick of voting for the lesser evil. I can't compromise like that anymore. From now on, I'll stand on principle."
My response: Congratulations on your moral purity. Have you considered moving to a place where none of your principles will be compromised, such as Antarctica?
Reason for Not Voting #3: "None of the candidates talk about issues important to me."
My response: If you like that situation, keep on not voting. By not expressing your opinion at the polls, you make certain that candidates will disregard it.
Reason for Not Voting #4: "It makes no difference anyway. In my gerrymandered district, people with my views are so outnumbered that my candidate can never win."
My response: Gerrymandering is a big, big problem. But the canny politicians who divvy up voters for their own advantage are counting on the continuation of established political patterns, including the pattern of people not voting. A sudden swell in ballots from groups they are trying to marginalize could upset their calculations—and maybe set the stage for legislative action to end gerrymandering.
Reason for Not Voting #5: "Votes change nothing. Politicians do whatever nasty things they like regardless of what the public thinks."
My response: Um, politicians can't do that nefarious stuff if they're not in office. Vote them out and they'll be reduced to making millions as lobbyists. That's not quite as bad for the rest of us.
I've said all this before, in one way or another. But the other day, inspired by a conversation with a politically involved friend, I turned the problem around in my mind, reflecting on what it takes to become a committed voter, someone who turns out in every election:
A sense of morality or justice. People are said to vote their pocketbooks, and many do, but in our divided times what seems to drive citizens to the polls is a belief that certain actions and policies are right and others are disastrously wrong.
Faith. Not religious belief necessarily, but a conviction that there's some hope left for the world and that human actions—our actions—can make a difference. Admittedly, if science says the Earth is likely to be uninhabitable in a few decades, faith stretches thin; but there have been Doomsday scenarios in the past that we managed to escape, and it wasn't by hiding under our school desks to avert the atomic bomb. We must believe that our flawed and compromised democracy can be salvaged and that its fate is important to the world.
Irrationality. In the most local of elections, one vote can actually matter. In a 2017 contest Phillip Garcia won the post of judge of election in a Philly precinct because he wrote in his own name—the only vote cast for that office. Still, I have to admit that one vote, which is all each person can control, will change nothing in a statewide or national election. Making a point of casting a ballot is therefore irrational, or at best a stroking of one's own moral sensibilities (cf. Reason #2 above).
It seems I've put myself in the position of urging people to be irrational. Okay, I'll own up to that. I'll double down, as Twitterman always does.
Get out there and go crazy, people! Against all reason, act like it makes a difference what you do. Vote for somebody! If necessary, embrace the lesser evil, the best of the bad choices.
Maybe there's some hidden good there after all.
We had an election this week in Philadelphia. A special election to fill three vacancies in the state House, two of which arose because the incumbents quit after pleading guilty to corruption.
This event produced a grand Y-A-W-N in the city. The media ignored it, and the outcome was predetermined. (Local Democrats, with a huge registration advantage, automatically win any vote with such little publicity.) Besides, most of us don't even know our representatives in the state House, and as far as we can tell, their only function is to send us a boastful newsletter just before the next election. As for corrupt officials, they're as common here as in Iraq, and perhaps cheaper, and we don't expect new ones to be any less venal.
Nevertheless, stifling my Y-A-W-N, I wandered over to my polling place about 11:30 in the morning. It was deserted. They told me I was the 19th person to come in since the polls opened. Explained one attendant who was eating a pastry, "We don't even call this light turnout. It's dim turnout."
For the 30 seconds I spent in the booth, I received the sticker shown above—a more than adequate reward. I chose the Spanish version because I'm trying to learn the language. Combining this with the sign I encounter frequently, "NO TIRE BASURA," I'm up to six words total. It's a start.
But I was upset about being number 19. That's worse than dim turnout, it's like Milton's description of Hell: "No light, but rather darkness visible."
For an election pitting Luigi's Pizza against Pete's Famous Pizza, my neighborhood would have several hundred voters by late morning. Everybody knows Luigi's would win—it's predetermined by the crust—but people would show up at the polls anyway.
So I went into my typical funk about the trashing of American democracy. In my view, we can survive Donald Trump and Fox News (which treated the recent Republican debate like a game show), but what we can't survive is indifference.
Okay, you're heard that before. Everybody complains about the apathy of the American public. And the counterargument seems like a good one: If the choices are Tweedledum and Tweedledee—or, say, Trumpledump and Christiedweeb—indifference is a rational response, isn't it?
I disagree, and here's my reasoning.
Imagine your typical city neighborhood, which averages 60% turnout during presidential elections, 40% in midterms, 20–27% in mayoral elections, and way, way less in off-off-season polls like the one we just had here. On average, then, a lot more than half of the people don't vote. Now suppose that, in the next election, the neighborhood's turnout jumps a modest 15% for no obvious reason (no candidate from the dominant ethnic group, no hot-button issue on the ballot). What will happen?
The local politicians will suddenly get very interested in that neighborhood. They'll start to ask what's going on there. They'll stop by and talk to people. They'll want to know what issues the community cares about.
This imaginary scenario leads to my slogan, with apologies to Field of Dreamers:
VOTE AND THEY WILL COME!
It doesn't matter if, at the moment, you can't tell a Fiorina from a Cannoli. Vote in reasonable numbers and they will be forced to address your issues. Vote especially when the slick pols and the talking heads don't expect you to.
After all, we citizens have just two things politicians care about: (a) votes and (b) money. For those of us with little cash to spare, votes are the only weapon, and if we don't use that weapon to defend ourselves, we're choosing to bend over and take it up the … wherever (to use a famous Trumpism).
Sure, I understand all the points about the influence of big money, the rise of the oligarchy or plutocracy or whatever you want to call it. I also sympathize with the rage that leads people into the streets to scream and throw rocks at the cops. But when we throw rocks, we're not hitting the moneymen and asshole politicians who run the system. As soon as we go home, those bigwigs will go back to ignoring us unless they think they're losing money or votes.
Thus, no matter how oppressed or depressed the community, I get upset with locals who complain but don't bother to vote. Despite Republican efforts to suppress turnout, most people wouldn't have any trouble voting if they made an effort.
It's the one defense we have left. Nobody's forcing us to be helpless.
According to Google Translate, the slogan is even simpler in Spanish:
VOTA Y ELLOS VENDRÁN!
Plus, you get a nice sticker. Feel free to print this one and glue it to your shirt. Do correct my Spanish if I got it wrong.
For the past few weeks I've been vaguely following the Inequality Debate, that is, the controversy surrounding arguments by Paul Krugman and others that economic inequality in the United States is worse than ever, that we live in a new Gilded Age, that our government is essentially an oligarchy rather than a democracy, and that presuming those at the top "earned" their way up the ladder is ludicrous.
I agree with all these ideas—actually I'll call them facts. And none of them is new. But while the right wing panics because people are saying these things, and the left wing panics because they are true, I'm stuck as usual in a middle position. My heart is with the left but my head insists on caveats. The complicated sentiments that keep me in the middle can perhaps be reduced to a series of propositions—call them facts if you will.
Although the wealthy have inordinate influence in America, our state and national governments are still run by elected officials.
Our elections are, by and large, fair and honest. That is, votes are counted accurately, and despite conservatives' efforts to shorten the voting rolls, people who make an effort to vote generally can.
Among the candidates who run for office, some are considerably more sympathetic than others to the 99 percent of us who aren't wealthy, and it is usually easy to identify these more sympathetic types.
Although voting districts have been gerrymandered (by both sides), they are not so skewed that 99 percent could not outvote 1 percent.
Therefore, if we the 99 percent voted consistently in our own interests, we'd have a hell of a lot more influence over policy than we do now.
The fact that we don't vote in our own interests cannot be blamed on anyone else. Sure, the right wing will try to con us into believing the latest version of the trickle-down theory, and a car salesman will try to con us into buying a gas-guzzling SUV, but whose fault is it if we let ourselves be deceived? As adults, shouldn't we know better?
I propose adopting the following simple declaration:
We the 99 Percent of the United States, in Order to form a more perfect Union, establish Justice, insure domestic Tranquility, provide for the common defence, promote the general Welfare, and secure the Blessings of Liberty to ourselves and our Posterity, do ordain and establish this rule: that we will vote in every election, and vote smart, and not let the fucking bastards con us anymore.